We Exist to Serve You
Whether you need just a few spare parts, a retrofit or an entire turnkey farm package, our qualified team can help you improve, update and modernize your farm.  It begins here.  We at PEP, Inc. are passionate about our customer's satisfaction.   We stand behind the products we sell because we believe in them. Poultry Equipment Plus will come to you and provide onsite sales and service.  No job is too big or too small.  We will assist you with everything you need to get your farm up and running smoothly!
If you are interested in our services or products, or would like a quote, you can reach us by clicking on the link below.
Proud Member of Marshville Chamber of Commerce since 2001.
Member of NC Poultry Federation.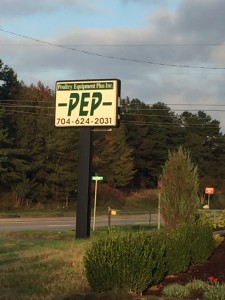 About Our Company
Poultry Equipment Plus, Inc. was founded in 2001, after Edwards Poultry Supply closed its doors and new owner, Matthew Mills, reopened the store in the same location as Poultry Equipment Plus, Inc.  Matthew Mills was born and raised in the poultry farm business, here locally, in Marshville, NC.  He worked alongside his father, Barry Mills, raising chickens. When he turned 14, he started installing equipment for Edwards Poultry Supply.  After college, Matthew was hired as a purchasing agent and worked his way up to warehouse manager over five stores. After spending five years at Edwards Poultry Supply, Matthew went to work for a leading manufacturer of poultry equipment and became a regional sales manager.  In August 2000, he returned to EPS as the general manager and bought out the company six months later.
PEP, Inc. is a small family owned business with hometown values.   His father, Barry Mills is always around PEP, Inc. delivering feed bins and servicing equipment for customers.   Matthew's wife, Tiffany, joined the business in 2007 and works in the office handling payroll, insurance and accounts payable.  They have two sons, Brett and Tyler, who help with installing equipment when school is out of session.
PEP, Inc. has grown and expanded over the years.  Now in 2015, we have over 16,000 sq feet of enclosed warehouse space to store equipment, inventory and build feed bins. PEP, Inc. has 2 salesmen, 3 highly experienced service men, a full-time licensed electrician, a warehouse manager, two office workers, and a hard working installation crew with over 25 years experience.   Our employees are friendly, committed and dedicated to make sure our loyal customers are satisfied.
We have built and maintained our high reputation based upon providing "quality equipment and customer service".  Today, our goal is to sell the best product in the industry that produces the highest performance at the best price, while maintaining a high level of customer service.  We deliver what we promise and strive to be the best.